Rio Tinto Stock: Take Comfort In Margin Of Safety (NYSE:RIO)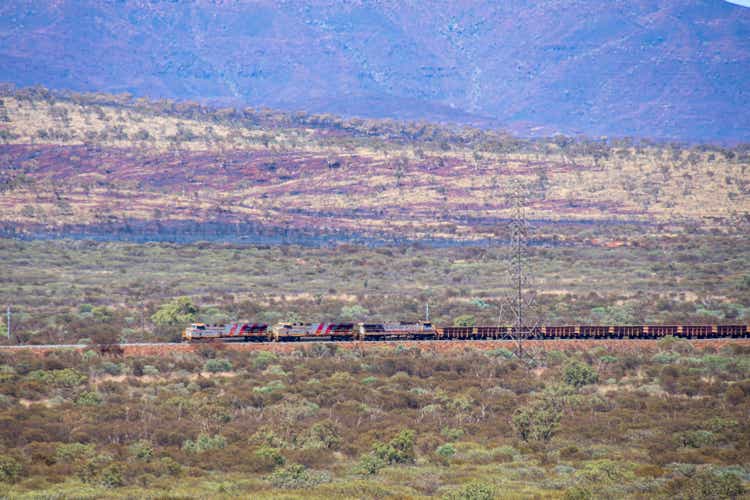 Investment thesis
As it was time for me to update my followers on the development at Rio Tinto (NYSE:RIO), I have been compiling research and started the work. Then, along comes an excellent article written by fellow author John Kingham, asking the pertinent question " Should You Buy Rio Tinto For Its 17% Dividend Yield?
His article, which I highly recommend you to read, gives the reader a thorough review of Rio's position and business.
Since November of last year when my last article on RIO appeared, we know that it is a different world we live in and it is, therefore, worth reconsidering my stance on RIO.
Fundamentals – and why it matters so much
In my previous article, I even chose to title it: "Envious Financials And Excellent Profitability".
This is an understatement as RIO has no debt, and in fact, held cash of USD 1.58 billion in their accounts at the end of last year.
There are lots of dark clouds on the horizon, and group thinking is doing well with all talking heads in the media proclaiming that we are going into a recession.
Usually, when they say this, we are already in one. Nevertheless, we are rightfully reminded by wise large investors that during such markets we need to make sure our portfolio consists of quality companies that can withstand a storm or two.
I think RIO ticks all the boxes in that respect. They delivered a return on capital deployed of 44%. Few companies of this size can do that.
Last year's EPS was USD 13.21, and with a USD 63.18 share price, it gives us a very low P/E of just 4.78.
Instead of looking at earnings, we can look at the free cash flow of USD 17.7 billion. At the end of last year, they had 1,618 million shares outstanding. This means they had as much as USD 10.94 free cash flow per share.
Australian iron ore has a competitive advantage.
Not only is RIO's break-even for their iron ore from the Pilbara mine just USD 18.60 FOB Dampier port in Western Australia.
In addition, comes the much lower cost of getting it to China.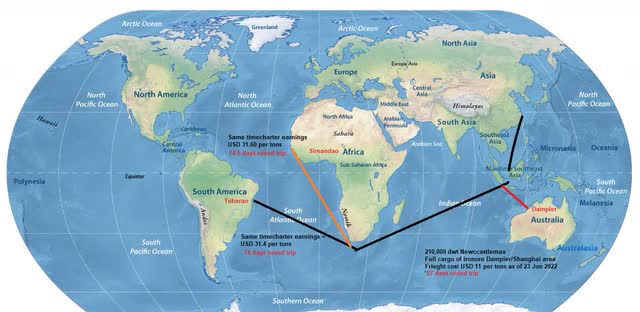 The market for shipping iron ore from Western Australia to China was USD 11.20 per ton as of 23 June 2022. Such a round-trip voyage starting in Shanghai going to Dampier and returning to Shanghai takes 27 days for a Capesize vessel, including loading and discharging the cargo.
For a ship owner or operator, to make the same earning on the same kind of vessel, he would need USD 31.40 per ton from Tubarao in Brazil. That round-trip voyage takes 74 days.
RIO is one of a consortium of miners developing the world's largest iron ore in Simandou in Guinea in West Africa. More on this later. It is equally far away and would require roughly the same kind of freight level.
Let us assume Rio now has a break-even cost delivered to China of USD 30 per ton. Bear in mind, if we do get a recession and the shipping market goes lower, we may say USD 25 per ton delivered to China.
There is an active paper market for forward delivery of iron ore to China and the present prices for forward delivery look as follows: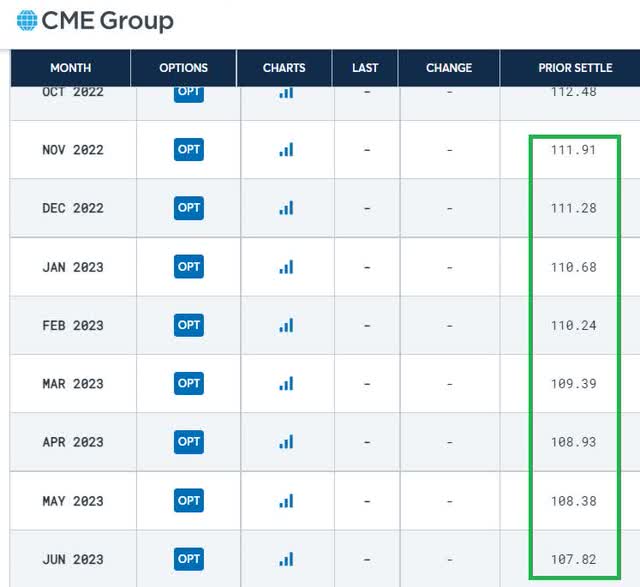 There is a huge margin of safety, which begs my question to Kingham how much margin do you require?
We make
our decision based on a risk assessment that takes into account likelihood and severity. Personally, I believe the likelihood of a prolonged period of iron ore buying delivered to China at the USD 30 level is very low.
RIO will come out with their FH Financial Report on 27 July 2022, and as shareholders, we look forward to seeing their results.
Price matters
I probably repeat myself too often here on SA. But I think it is important, and these are statements that do not originate from my brain. It often comes from much more successful investors than myself. That is also why it is so important to learn from them.
Howard Marks basically tries to explain that we do not know where a share price is going tomorrow, next week, or even next year. There are simply too many unknown things that determine this. But we do need to figure out where we are in a cycle and if an asset is priced at an attractive valuation based on its fundamentals and what the margin of safety is should the future turn out different than how we have envisioned it to be.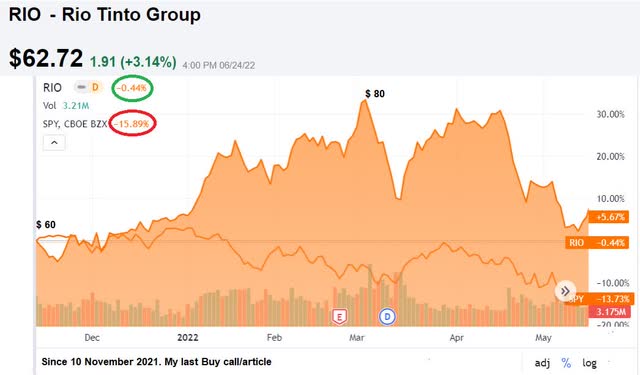 I would like to go back to the article written by James Kingham where he questions whether you should buy Rio for its attractive dividend yield and his answer is mostly related to the margin of safety at Rio's current share price.
Their dividend for 2021 was an ordinary dividend of USD 7.93 and a special dividend of USD 2.47.
In my personal opinion, we should never buy a company purely based on its dividend yield. Never.
Some companies pay out dividends that are not sustainable. They should be avoided at all costs. Others may have shaky balance sheets or other problems. Rio is not one of them. With them, one should be prepared for a variable dividend. That is fine with me. I do not expect a consistent yield. If a market is down, we have to accept less. There are both good and bad days in all businesses.
I believe that the following development is what matters most to the future of Rio, but not necessarily in this order:
After you have read through an annual report of RIO, it does not take long to figure out that RIO is very much dependent on what is happening in China.
Here again, this fragility is something I have pointed out in my earlier articles on RIO. It will be difficult to replace such large sales to China with buyers from other countries, but they should still try to get a broader diversification of buyers. It would make them more anti-fragile.
The good news is that there is a new government in Australia that does have an agenda of resetting relationships, including theirs with China. Hopes of a less frosty relationship are there.
China, with slower growth, may not continue to consume as much iron ore as they have in the past, but this is not a certainty.
The world is going to see a big energy transformation. It will require electrification which requires vast amounts of metals such as copper, zinc, lithium, and cobalt.
To build one wind turbine (inland), the Belgian steel maker Arcelor Mittal estimates that around 225 to 285 tons of steel are required. Steel is also needed in other parts of this energy transformation. The masts for wind turbines at sea or inland are in fact almost identical. The main difference, however, is that the turbines at sea need a base that anchors the mast to the bottom of the sea. This requires even more steel.
One example is the shipbuilding industry. With new and cleaner propulsion on the cards, shipyards will remain busy for a long time.
Renewable energy is starting to gain traction. Especially in periods of expensive oil and gas, such as what we are experiencing now. More solar power and wind turbines will be installed.
RIO's many projects under development
I revisit the projects which I described in an earlier article with an update on the status.
Iron ore mine in Simandou, Guinea, West Africa
This is a mega project and holds the world's largest reserves of high-quality iron ore.
But it is located in a part of the world that does have a rather unstable environment, with governments being toppled, high corruption levels, and many other challenges.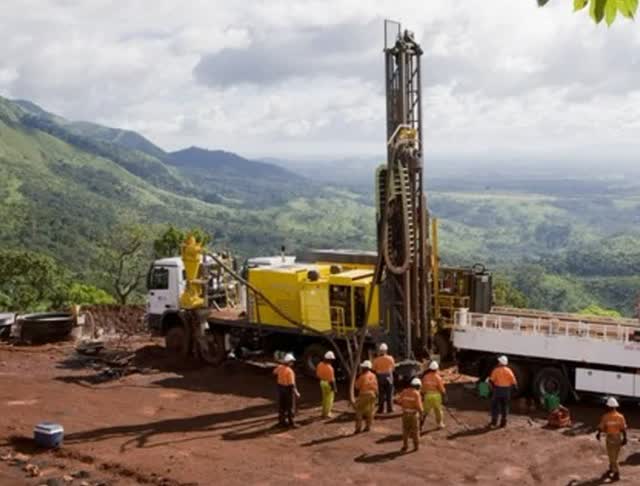 RIO obtained their license for one of several blocks of land back in 1997. That is now 25 years ago. Other blocks are owned by mainland Chinese interests.
They are still committed to this project. However, it is still unknown when the ore can start to be loaded onto ships for export.
A copper mine in Mongolia
RIO had proposed in March to buy out the 49% of Turquoise Hill (TRQ) for approximately USD 2.7 billion, but the offer has received some opposition.
In the meantime, there has been an ongoing battle about funding the project. The latest is that RIO has agreed to provide TRQ with as much as USD 400 million in interim debt to finance the ongoing development and has also extended the date by whi
ch TRQ is required to raise additional equity capital to year-end 2022.
Resolution Copper Mine project in Arizona
On 24th June, the 9th U.S. Circuit Court of Appeals issued a decision that upheld a 2014 decision to give thousands of acres in Arizona to RIO for its Resolution Copper project, which sits on 40 billion pounds of copper reserves. Let us hope it can move from the courtroom to start digging. I am uncertain of when that can take place.
In early May this year, Rio's CEO Stausholm informed shareholders that there are still hopes that the Jadar lithium mine in Serbia might go ahead. This USD 2.4 billion mines could be very important for Serbia as their Chairman pointed out, as it could add 4% to the country's GDP and open up opportunities for Serbia to develop a downstream business to supply green technology to the European automotive market.
Nevertheless, as I also pointed out in earlier articles, many mining projects around the world face difficulties from either the authorities or other stakeholders.
Hence, all these, and geopolitical risks are some of the main risks to the thesis.
Conclusion
I am willing to accept the volatility in the commodity sector which may result in shifting earnings and dividends from RIO.
What matters most to me is the still enviable margin they have based on the low break-even price for iron ore and the super solid balance sheet. It makes me sleep well at night.
Even if we do get a recession, that too shall pass. They are also very often followed by government stimulus packages that will require more commodities such as steel, copper, and alumina.
Rio is certainly not expensive now, and my Buy stance remains.